By matching the right research techniques to your situation,
we'll answer your critical marketing questions.

"Advantage Marketing Information's staff followed up quickly on our inquiries, made suggestions that contributed substantially to our success and performed at consistently high standards. We will continue to work with them on this project moving forward."
–Whitney Sielaff, editorial director
Nielsen Business Information Jewelry Group
Do you believe better decisions result from accurate, unbiased information about your markets, prospects, customers and competition? We do.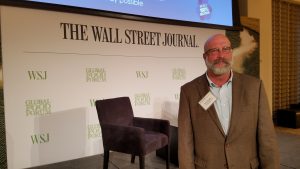 Managing Director Rick Nagele at the Global Food Forum,
New York City
Are you seeking transformational ideas to take your organization to the next level? We are.

We'll bring clarity and insight to your most critical initiatives by translating research about your
markets, prospects, customers and competitors
into action steps you can take to exceed your expectations.
Small investments in market research and information deliver outsize gains in market share, sales and profitability… all while dramatically reducing surprises. We're marketing professionals who will help you implement effective marketing research and translate the findings into sound marketing advice.
Market Research, Information & Analysis Services Offered
Surveys and Focus Groups
Including web surveys, telephone and in-person
• Comprehensive, cost effective statistical research
• Net Promoter Score Research (copy write Bain and Company)
• Expert Interviews
• Statistical Analysis
• Focus Groups
• Observation Studies
• Feasibility Studies
• Marketing Consulting
• Marketing Experiments
• Presentations on marketing, research and sales
Advantage Marketing Information  is located in North Kingstown, Rhode Island between Providence, the 'Creative Capital' and Newport…'America's First Resort'
call 401.294.6910 or nagele@advantage411.com